Medical Scribes
The role of the traditional medical scribe has evolved from documentation assistant to productivity partner. Though primarily focused on reducing the clerical burden of Electronic Medical Records (EMRs), today's medical scribes improve the efficiency of entire care teams. As burnout reaches epidemic proportions, medical scribes assist with critical ancillary tasks, empowering care teams to work top-of-license.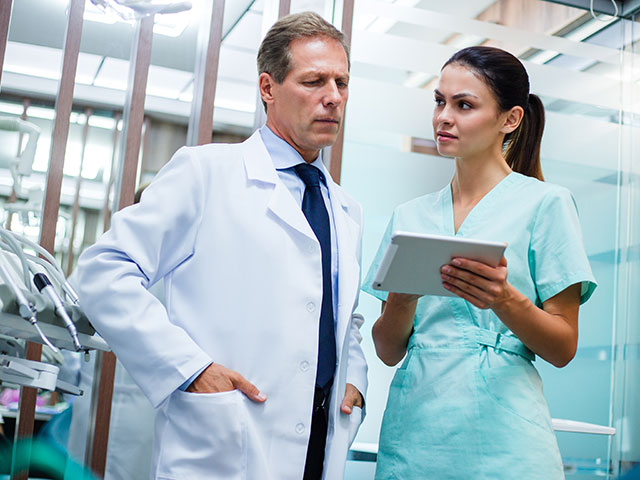 What is a Medical Scribe?
Medical scribes work alongside healthcare providers to enhance the delivery of care, reduce administrative burden, and improve care team workflow. For nearly two decades, ScribeAmerica's expert team has served as a thought partner to leading health systems aiming to bolster efficiency and improve the patient experience
1
Increase provider satisfaction by reducing the time spent behind a computer updating charts.
2
Medical scribes gather important patient information for providers before clinical encounters for more productive visits.
3
Right-size care teams with highly-skilled ancillary support. Our medical scribes are often pre-med students eager to gain healthcare experience and passionate about assisting with the delivery of quality care.
4
Improve the patient experience by freeing providers to be at the bedside, and not behind a computer.
5
Drive positive health outcomes with providers focused on patients to listen to the full patient story undistracted, while scribes document directly within the EMR.
6
Strengthen provider recruiting efforts and gain a competitive advantage by offering medical scribes.
7
Reach population health goals with ancillary support.
8
Advance Chronic Care Management enrollment and improve RAF/ HCC scores.
9
Reduce provider and nurse burnout with medical scribe support.
10
Working parallel with providers, medical scribes update chart notes to show meaningful use, alert providers to inefficient documentation, and prepare discharge materials for patients.
Provide the Highest Level of Care with Medical Scribes
Full Turn-key Solutions for the New Era of Healthcare.
Determine what metrics are important to you.
Review and define KPIs and benchmarks.
Conduct pre-scribe data collection and surveys.
Deliver on ROI and reporting metrics.
For high-volume practices and fast-paced specialties.
Recruit and hire to meet specific patient volumes.
Provide industry leading training across specialties.
Define ancillary tasks to right-size care team work-flow.
The highest level of medical scribe support.
Receive monthly reports and updates on charts.
Lead 90 day evaluations to track success.
Conduct post-scribe provider satisfaction surveys.